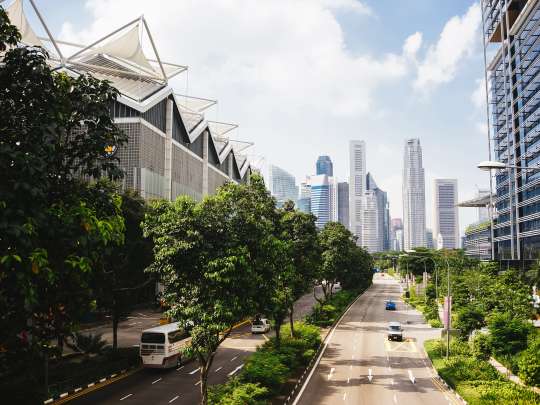 ESG month officially kicked off last week and INREVs Sustainability Committee has geared up activities to recognise that there is more to ESG than environmental and is determined to place more emphasis on exploring, promoting and sharing knowledge on the social and governance factors related to non-listed real estate.

To better help members navigate the muddy waters of compliance, INREVs Sustainability Best Practice guidelines (including the Sustainability Reporting guidelines) and Online Assessment Tool offer solutions to potentially eradicate the complexities associated with the topic. The tools can be used by investors and managers to keep up to speed and harmonise with ESG industry best practice. 

In January of this year, the sustainability committee developed 24 ESG definitions for inclusion into the Global Definition Database (GDD) including Carbon Trading, Equity Share, Greenhouse Gas (GHG) Emissions, Renewable Energy and Building Energy Intensity and is currently in collaboration with INREVs regional partners to increase this number. Terminology growth, in topics such as ESG, continues to contribute to the GDD becoming a valuable resource for both INREV members and the industry to gain clarity on a variety of key terms in the context of non-listed real estate. 
Global ESG Library publication
How ESG engagement creates value for investors and companies
Published on 31 Aug 2018 Share
This piece of research, commissioned by the PRI, looks at how ESG engagement creates value for both companies and investors, amid growing evidence that engagement by investors with companies on environmental, social and governance (ESG) issues can create shareholder value.

Key recommendations

For companies:
Companies can enhance their communication with investors by closing the loop between internal ESG information systems, ESG engagement information and ESG reporting practices. This can be enabled by deploying dedicated information systems to manage investor relations.
Learning opportunities can be extended by 'acting rather than being acted upon'. Corporations can use engagement proactively and strategically to test ESG policies, identify more efficient ESG targets and KPIs, and build better ESG management systems.
Political benefits can be maximised through enhanced internal coordination between corporate investor relations departments, sustainability departments, and board-level executives before meeting with external investors.
For investors:
Investors can enhance the communicative value of engagement by making their engagement objectives, expectations and desired form of success clear to companies upfront. Communicative value can also be increased through improved public transparency and disclosure – and hence social accountability – of how engagement processes are initiated, executed, managed, monitored and evaluated.
Learning value can be advanced if investors strengthen the feedback loop between new ESG information and knowledge gained through engagement, and their main ESG integration databases and decision-making processes. Learning opportunities can be lost however, if engagement is outsourced without any standardised feedback process.
Political benefits can be derived internally if ESG and financial analysts work more closely together on engagements. External political value can be gained through better collaboration with clients and their beneficiaries when developing or refining engagement policies, objectives and accountability mechanisms, as well as through balancing individual and collective forms of engagement to create and maintain long-term relationships with investee companies.
Prepared by PRI