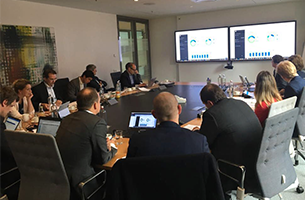 During September and early October, over 35 INREV members gathered at workshops across Munich, London and Amsterdam to view prototypes of the Asset Level Index project.
INREV conducted a prototype-development-based selection process to identify a suitable IT development partner who could create a prototype focused on, but not limited to, the data entry and validation process. Five companies were shortlisted.
The workshops have been an important step forward in the evolution of the Asset Level Index, enabling founding and focus group members, who would ultimately be end-users, an opportunity to provide their feedback.
This process has proved invaluable. The quality of the prototypes was outstanding and the feedback from the 35+ members who attended was very positive.
Want to be more involved?
This is the last chance to join the 28 existing founding members who have provided their commitment to submit data on around 6,500 assets, with a total market value of EUR 150 billion.
You now have until 30 November to return your signed commitment letters to INREV and become founding members of the Asset Level Index.
To participate in this exciting initiative, please contact Vitaliy Tonenchuk.