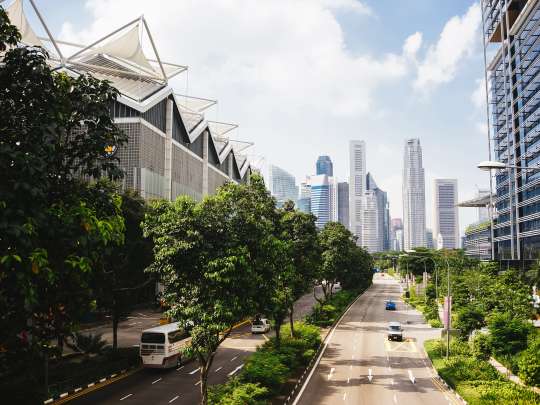 This September we celebrated all things Environmental, Social and Governance with our industry wide ESG Month initiative.

Throughout the month, we shone the light on this ever- important topic with a new report published by the Carbon Risk Real Estate Monitor (CRREM), added to the Global ESG library on the topic 'Assessing long-term climate transition risk for real estate assets and funds' and added a new case study looking at how technology can help to enhance the occupier experience to the growing ESG Library. 

Those who dialed into the monthly Tax and Regulations briefing heard about the Sustainable Finance Action Plan and Taxonomy with a focus on the buildings' sector, (Missed this briefing? Catch up) and we also published a summary of the tools related to ESG that members can use to strive for a better ESG practice. 

On the events and training front, the month was packed with opportunities to learn and gather a better understanding of ESG. European policy makers and the real estate industry gathered in Brussels on September 19 to discuss the importance of real estate in meeting the challenges of financing a sustainable future in Europe. 

In Copenhagen, 26 industry professionals joined a course on ESG for non-listed real estate investments and 29 participated in a roundtable on Climate Risk. 
The round table brought to light some key takeaways: 
Climate change is a big risk for investors that could  have a significant impact on the value of their portfolios – there is a greater need for transparency, consistency and standardisation. 
It is important to differentiate and address both the physical climate risk and the transition risk. 
Members are at different stages of defining and implementing a strategy on climate risk; investors are becoming more aware and asking more questions. 
Challenges include choosing the methodology,  knowing how to integrate along with identifying the correlation between various risks, data availability and ensuring a dedicated ESG team is in place. 
The one-day ESG Course covered several themes such as impact investing, climate change, urbanisation, social value, smart building technology and biodiversity. Various course leaders covered the investor perspective, the fund manager perspective and included practical tips on how to implement ESG across the life cycle of an asset. 

Attendees of both events were invited to join property tours, hosted by NREP or three exemplary ESG projects situated in Copenhagen – The UN17 Village, Resource Rows and Upcycle studios. 

And, considering that the new wave of industry Young Professionals are likely to need to carry the ESG baton even more prominently as part of the London edition of the INREV Link and Learn programme, a property tour to the #WildWestEnd hosted by Grosvenor took those who attended onto the rooftops of central London looking at real-life examples of an initiative designed to encourage birds, bees and bats back to an iconic area of London in a quest to improve the urban environment and better connect people with nature.  

Check out the official ESG Month hashtag #ESGMonthINREV for more insights and SAVE THE DATE for ESG Month 2020 next September.