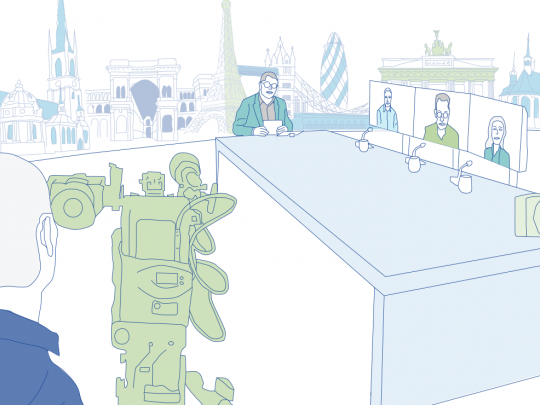 We are pleased to invite you to register for the Annual Conference 2021 which will take place online over three days on 20, 21 and 22 April. 

Register              Programme 
This flagship event brings together members of the non-listed real estate community, and senior experts from the sector and beyond to present the latest insights, trends and important themes set to impact the industry of today, and tomorrow. 
An Annual Conference open to all INREV members
Due to the impacts of COVID-19, this year's annual conference is held online - broadcast live from the INREV Live Online professional studio. While we would much rather meet you, our members face-to-face at a location somewhere in Europe, the online setting does mean that without constraints on space, time or budgets, we are able to welcome all INREV members to this flagship event. At last year's Annual Conference held online for the first time, we welcomed a record breaking number of registrations from all corners of the globe and we're delighted to bring the community together again this year. 

Reinvention for Resilience: Getting ready for the new normal

Throughout the three-day online programme, you can watch presentations delivered by leading experts on key themes such as the economic landscape, ESG and how technology is driving innovation in this area, diversity and inclusion, real estate in the wider portfolio, as well as hear insights on the shift to long-term adaptation to COVID-19. 
Leading minds
We're delighted to welcome Linda Yueh, Fellow in Economics, Oxford University and John Macomber, Senior Lecturer, Harvard Business School who will share insights from outside of the non-listed real estate industry and present the current macro-economic landscape to help frame the road ahead in embracing the new generation of non-listed real estate. 

We are pleased to welcome back Andrea Carpenter, Director at Woman Talk Real Estate who will interview Ric Lewis, Executive Chairman and Chief Investment Officer at Tristan Capital Partners on his impressive career so far in the real estate industry. 

Guy Grainger, Global Head of Sustainability Services at JLL will present the case for ESG to become a standard pillar of future business models, while Jos Sentel, Syntrus Achmea, Ilkka Tomperi, Varma, Mikkel Bülow-Lehnsby, NREP and John O'Driscoll, AXA IM - Real Assets will also share their view on harnessing a customer centric approach and the financing solutions for bespoke investment products.

Interact and participate
As well as the latest industry insights and trends, we've included open-house breakouts so you can learn more about INREV's global alliance initiatives, public affairs, standards and the latest INREV Research and Market Information. Why not join a virtual booth with one of our headline sponsors when they present a hot topic? And, for any burning questions, Greg Clark will be on hand as conference moderator to facilitate interaction and dialogue between the audience and the experts. 

A special thank you to the 14 sponsors for their support of this event.