'City of Music' Delivers a Rousing Performance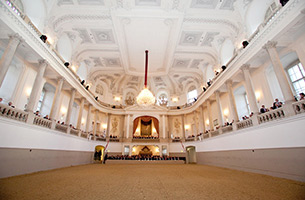 The overall conference theme for the INREV Annual Conference 2012 – Europe's Position in the Global Economy – was designed to provoke thought and discussion. And it did just that. There was a palpable feeling of positive energy from the outset and an eagerness to listen to, reflect upon and debate important industry issues.
The Investor Only Seminar and Annual General Meeting (AGM), which took place on Tuesday 24 April, set the tone for the ensuing conference. The former sparked an important debate about the need for greater alignment of interest between investors and fund managers and the benefits as well as the draw backs of significant required co-investment by fund managers.
Nearly 400 delegates flocked to Vienna, the stunning 'City of Music' for the INREV Conference 2012
The AGM shared information about key changes to the INREV Management Board, with the appointments of new chairman, Patrick Kanters, Managing Director Global Real Estate at APG Asset Management; and those of new members Udo Schaffer, Vice President and Head of Portfolio Management Real Estate, E.ON AG, and Erwin Stouthamer, Managing Director and Founder, Composition Capital Partners.
That evening, delegates gathered for the informal welcome reception. It was a pleasant opportunity to mix and mingle in one of Vienna's most intriguing venues, the Albertina Passage Dinner Club – a former pedestrian underpass.
DAY ONE CONFERENCE SPEAKERS
Matthias Thomas, Chief Executive Officer, INREV
Nassim Nicholas Taleb, Distinguished Professor, New York University's Polytechnic Institute
Angelien Kemna, Chief Investment Officer, APG Asset Management
Simon Martin, Partner, Head of Strategy and Research, Tristan Capital Partners
Klas Åkerbäck, Senior Portfolio Manager International Real Estate, AP3
Michael Catford, Vice President, Real Estate, Healthcare of Ontario Pension Plan (HOOPP)
Andrew Milligan, Investment Director, Head of Global Strategy, Standard Life Investments
Jeff Jacobson, Global Chief Executive Officer, LaSalle Investment Management
Georg Allendorf, Managing Director, RREEF
Michael Clarke, Senior Managing Director, Head of European Real Estate, Mesirow Financial Institutional Real Estate
Ronald Dickerman, President, Madison International Realty
Paul Robinson, Executive Director, CBRE
Matthias Thomas, INREV's CEO, opened the conference on Wednesday morning by highlighting some of the key issues facing the industry today. He talked about sovereign debt and the euro crisis; changing investor sentiment and the emergence of alternative products; and the need for the industry to regain trust and confidence.
Nicholas Nassim Taleb, Distinguished Professor at New York University's Polytechnic Institute, then took to the stage to deliver the keynote speech. He offered some provocative thoughts about the benefits of volatility and randomness. He talked about adapting to what he called "anti-fragility" – the things that gain from disorder – and how this approach benefits real estate. His advice to the audience was to manage risk by ensuring everyone has "skin in the game"; and to remain under-invested. "Real estate," he said, "is a place where people got rich because they had options."
"We're more disappointed in the things we don't do, than in the things we did but didn't succeed at"
Angelien Kemna, Chief Investment Officer, APG Asset Management, then gave a comprehensive overview of the principles behind APG's assessment and selection of different asset classes. For non-listed real estate and other alternative asset classes there were some valuable insights. They need to deliver long-term absolute returns. They must embrace best practice, demonstrate that they operate simple, transparent business models in addition to delivering independent valuations, offering uniform industry benchmarks, and showing liquidity provisions.
Next, it was a question of faith. Simon Martin, Head of Strategy and Research, Tristan Capital Partners, argued eloquently for keeping the faith in the property market. He said that markets across Europe were broadly stable and that the more capital flows in, the stronger the real estate market will become. He acknowledged the signs of distress in some markets, the impact of the Basel III legislation on the cost of capital, the lack of debt, and negative returns. But, above all, he said the industry should avoid inertia and not give in to the fear of falling. "If you sit back and wait," he said, "someone else will eat your lunch."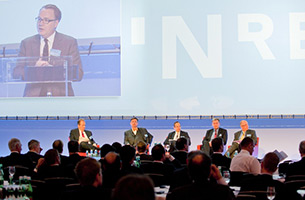 Greg Clark, the conference moderator, then led the first panel discussion. Contributors Klas Åkerbäck, Michael Catford and Andrew Milligan shared their views and insights on asset allocations, geographic and investment approaches, and implications of the changing shape of the industry for fund managers and investors.
The afternoon session began with a presentation from Jeff Jacobson, Global CEO, LaSalle Investment Management. His comparison between what he termed the "risk-on" era of 2003 – 2007 and the "risk-off" era of 2008 – 2012 amply illustrated the evolving nature of the non-listed real estate funds industry. He talked about the burgeoning variety of different fund types and their performance over time; and challenged the industry (and INREV) to remain fit-for-purpose in the face of continual change. Jacobson went on to chair the second panel discussion and the concluding element of the first day. Georg Allendorf, Michael Clarke, Ronald Dickerman and Paul Robinson joined him on stage. They highlighted the importance of transparency and the clarity of financial reporting.
The evening offered attendees an opportunity to unwind and network
In keeping with the tradition of the INREV conference, delegates had the chance to enjoy entertainment that was of particular relevance to the city in which the conference was being hosted – in this case a fine display of expert horsemanship by riders of the famous Spanish Riding School of Vienna. This was followed by the gala dinner, which was held in a beautifully adorned piazza that just happened to double as the stable yard for the Riding School's stunning Lipizzaner stallions.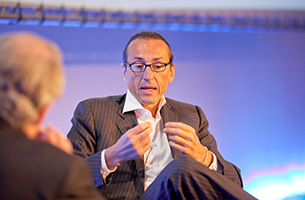 Day two started with an insightful interview with Wolfgang Egger, Chief Executive Officer, PATRIZIA Immobilien by veteran Financial Times columnist, John Plender. Egger revealed his early interest in the real estate market, which led to the creation of PATRIZIA Immobilien in 1984. He explained the guiding principles that have helped his business through the ups and downs of various market cycles and economic crises to emerge as one of Germany's leading property companies. He also highlighted the importance of hiring good people, and maintaining a spirit of partnership and trust. He said that owning and managing assets would become the key focus for property companies in the future.
Moritz Kraemer, Managing Director, Head of Sovereign Rating Group EMEA, Standard & Poor's followed on with a strident defence of ratings agencies, arguing that they act as a useful predictor of debt default. He had some frank words for European policymakers whom, he believed, had been left wanting in their response to the sovereign debt crisis putting "the primacy of politics above the markets." Moritz's sobering conclusion was that there is more bad news to come in the near term – a thought that he took into the ensuing debate he chaired with panellists Bart Gysens and Michael Morgenroth.
DAY TWO CONFERENCE SPEAKERS
Wolfgang Egger, Chief Executive Officer, PATRIZIA Immobilien
John Plender, Senior Editorial Writer and Columnist, The Financial Times
Moritz Kraemer, Managing Director, Head of Sovereign Rating Group Europe, Middle East and Africa, Standard & Poor's
Bart Gysens, Executive Director, Head of Property Research, Morgan Stanley
Michael Morgenroth, Managing Director, SIGNA Holding
Claus J. Raidl, President, Oesterreichische Nationalbank (Austrian National Bank)
Jim Garman, Managing Director and Global Co-Head of Real Estate in Merchant Banking, Goldman Sachs
Dale Lattanzio, Managing Partner, DRC Capital
John Mulcahy, Head of Asset Management, National Asset Management Agency (NAMA)
Russell Platt, Chief Executive Officer, Forum Partners Europe
Luke Johnson, Chairman, Risk Capital Partners
A further discussion on debt followed with Claus Raidl, President of the Oesterreichische Nationalbank (Austrian National Bank). His presen-tation addressed the Austrian perspective on debt and lending. Despite the strong deterioration in public finances between 2007 and 2011 and the general economic volatility of that period, Austrian bank lending had remained relatively high, he said. He explained the recent rising level of housing loans and an uptick in real estate prices in Austria (though still lower than other EU countries), and referenced the corresponding rise in demand for funding for the secondary markets.
Greg Clark then moderated a fascinating debate on the funding gap. He was joined by Jim Garman, Dale Lattanzio, John Mulcahy and Russell Platt. There were differences of opinion on specific approaches and tactics, but there seemed to be a level of consistency about the core principles that the industry might adopt in challenging times.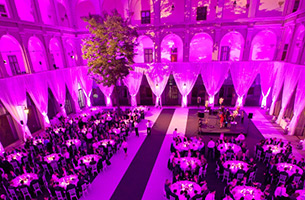 Luke Johnson – a serial entrepreneur and Chairman of private equity firm, Risk Capital Partners, delivered the final presentation of the conference. He talked about the importance of treating failure as an opportunity. "We're more disappointed in the things we don't do, than in the things we did but didn't succeed at," he said. And recognising the highly entrepreneurial nature of real estate, he concluded by sugges-ting that success was about "being vitally engaged."
This comment might have been an appropriate summary of the conference overall. The event was undoubtedly characterised by a high degree of engagement and vitality. Fittingly, it seems, Vienna bore witness to a rousing and inspirational performance. The event left delegates eagerly anticipating next year's conference in Barcelona, which will also mark INREV's 10th anniversary.