Other
Unlocking the potential of non-listed real estate data
INREV's Digital Transformation
16 February, 2021
5 min

to read
As a private asset-class, non-listed real estate began with a lack of publicly available data – a hindrance that could often deter new investors. So, from its early years, INREV set out to collect members' data, with the aim of increasing transparency in the sector. 

Over the past 17 years, INREV has done much to raise transparency and accessibility of the industry. This has included developing various vehicle databases, surveys (such as those on investment intentions, capital raising and fund manager surveys), a growing range of research papers and, most importantly, its indices. INREV now publishes 13 different indices, some quarterly and others annually. However, all of these initiatives have grown organically and often in isolation. This has meant using various databases or even excel files  and analysis software. So while INREV holds a vast amount of data that has been collected over a 17 year period, until recently this was held in disparate datasets that were never joined up. 
IT Roadmap
Therefore, at the end of 2018, INREV embarked on the 'IT Roadmap', a major programme to create a fully integrated data platform with an underlying data warehouse. The Roadmap aims to radically improve the value proposition to members and establish a solid foundation for new digital services, and is due to be concluded by the end of 2021. 

The new data warehouse has been created to store and combine all the data INREV has collected historically, in addition to any newly-collected data. It will act as a single repository for all data, with the data platform not only providing a 'one stop shop' for members, but also making it possible to link up the different data collection processes. Since the GFC, an often heard complaint is the increased reporting burden and combining all data reporting will reduce the burden for investment managers. All data collection will now take place through the data platform, removing the need for duplicate data entries.

The programme is also making it possible to replace tools that are reaching the end of their life, for example, the analysis and vehicle index input tools, with the introduction of best practices in data collection including automatic data checks. Such improvements in data collection mean improved data quality, in turn leading to better analysis and greater transparency. 
Combining all historically collected data into one data warehouse will also allow us to connect the dots between previously dispersed information, with the potential for more substantial analysis and insights, which will ultimately lead to a new level of transparency.
 
The data held within the database is 'cleaned', i.e. standardised to index inclusion criteria. This standardised data enables investment managers to compare their vehicle's performance or assets, in case of an asset level index user, to the market in a fair manner. Investment managers can already share their data or analyses with their investors in case they are also an INREV member. It is essential to have the right data access permission processes and security in place to ensure that the data owner always keeps full control of their information. New tools in the IT Roadmap are geared to improving security and control along with the latest developments. 
Where have we got to, where are we going?
With the IT Roadmap well underway, we have already reached some major milestones.  
With the release of the first version of the data platform in January 2020, we took the first steps towards vastly improving the data collection process behind our indices and vehicle universe databases, adopting standardised best practices for data collection and validation.
 
This involved linking all asset and fund level data collection in a much more secure environment using one coherent system.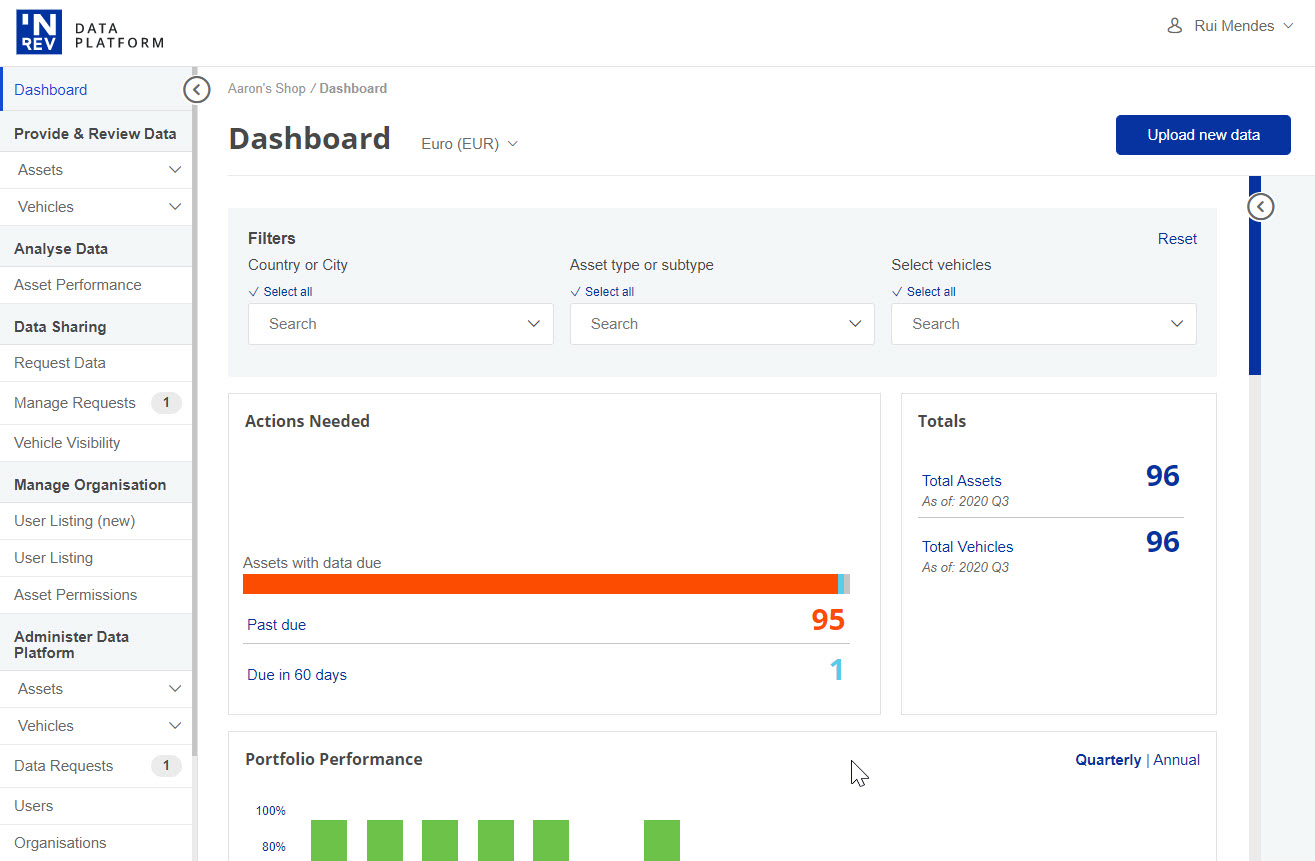 The new platform includes central permissions for storing access rights at both user and company level.

The data warehouse has been developed and all vehicle and asset level data have been imported. Attention has now turned towards survey data, importing and combining all the historical data and identifying overlaps between the surveys and with other data collections. Given the complexity of each individual survey, this will happen incrementally. 

So far, the IT Roadmap has concentrated on data collection mechanisms for index reporting. Now we will be shifting our focus to the production of the vehicle indices, working on automating the calculations and validation rules that allow vehicles to be selected for inclusion in a particular index publication. This will reduce the manual work that the INREV team needs to do, thus improving quality and saving time.

We must emphasis that as a custodian of members' data, INREV is responsible for applying the highest standards in security, governance and audit standards for accessing, collecting and storing the data that it holds. We are therefore committed to ensuring that the best cybersecurity practices are in place and are currently implementing the ISO 27001 international standard, with the target of certification in 2021.

Everything now planned for the IT Roadmap should be finished this year, but this isn't the end of the story. Over time new ways of expanding our digital services will no doubt emerge. One possibility could be a combined dashboard to integrate all layers of information, allowing for automated data calls when inputs are required, external input and output interfaces, and links to external datasets – for example on ESG or climate risk, which could bring even more insights to our members. 

It's too soon to say where and how this kind of innovation might be brought in. But rest assured that INREV will keep you informed on how our thinking evolves and any new plans that may follow. 
Going forward with ANREV
Extending the benefits to ANREV, the Asian Association for Investors in Non-Listed and its members has been a key consideration in consolidating all INREV's digital services into a new fully integrated data platform and the underlying data warehouse. Building on the existing relationship between the organisations, the value proposition of the IT Roadmap has been extended to ANREV.
The two associations are partners in the IT Roadmap, with INREV taking the technical lead but both parties providing their own input to the project.
Developing one data platform and one data warehouse provides the opportunity not only to define a clear set of rules and practices for keeping Chinese walls between the data entrusted to each association, but also to embed these rules in the design of the data warehouse.
The memberships of INREV and ANREV partly overlap, but the organisations still have somewhat different product offerings. The IT Roadmap partnership will mean that members belonging to both associations will be able to access their European and Asian data and products via one platform, while those belonging to one association will only see those products that come with their own membership.