Young Professionals
A clearer window on non-listed real estate
Phase I of new INREV website to launch soon
01 November, 2017
INREV's website is one of the main ways our members and the wider investment industry learn about key trends in non-listed real estate and INREV's role in supporting them.
It's essential to refresh the website regularly and improve its look and flow, so we've been working over the past year with member focus groups, staff, consultants and vendors to bring it up to date.
EVOLUTION NOT REVOLUTION
We want members to benefit from these improvements as soon as possible, and are therefore phasing in the transition from the existing format to the new one. By the end of the year, the first phase of the new site will be ready to launch.
Because this is an evolutionary process, some parts of the website will look different to others. In scheduling this work, we've prioritised the areas of the website that needed updating, and will be making the whole transition over the coming year.
Highlights of Phase 1 include a new look and feel for many key areas of the website, including the Homepage, Tax and Regulations, News, Library, About INREV, Annual Conference and Member Directory. At the same time, navigation is being improved to provide more information on each page and make it easier to move around the site.

WHAT'S DIFFERENT?
The first thing you'll notice about the new website is its look. The modern, professional, fresh design, which has been built to reflect the INREV brand, makes the content clearer and more accessible, in line with our goal of bringing greater transparency to the industry.
In practical terms, you will find that information can be accessed more directly. For example, if you've just finished reading a news item and want to learn more, instead of clicking through to various other pages, you can now download publications and other information directly under the news. At the same time, different items on a single topic have now been brought together. So 'Investment Intentions' will now include the report, snapshot and infographic together with presentations and videos, all in one easy to access location.
Navigating around the site will also be easier, thanks to a new navigation bar that sits on the left hand side of the screen. Since publications are available directly under other items, the Library will now be found in the footer.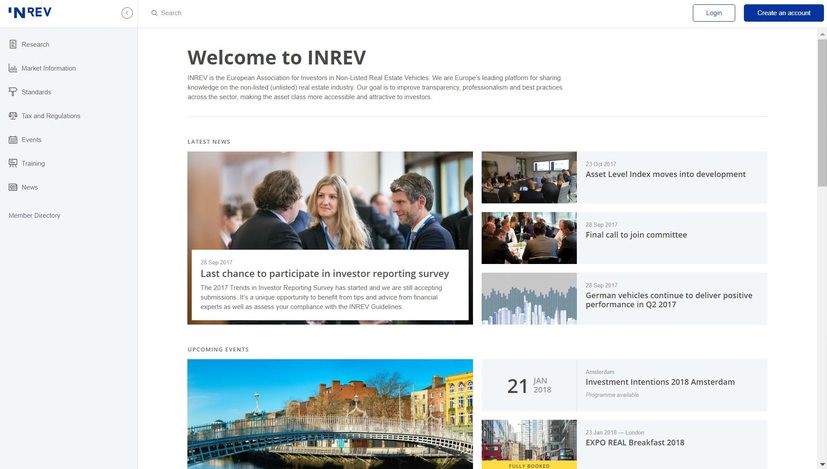 The new website feels light and fresh. It has more structure, which makes it easier to navigate and find the information you're looking for.
Marsha Sinninghe, Syntrus Achmea Real Estate & Finance, Website Focus Group member
Meanwhile we've revamped the wording used on the site to match the way INREV works day-to-day. So 'Public Affairs and Tax' is now called 'Tax and Regulations,' while the 'List of members' and 'Members directory' have been combined into a single 'Member directory' that can be searched by company or representative (employee). The new 'Monthly briefings' page gives members clearer access to the monthly Tax and Regulations Briefing calls, previously called 'Public Affairs and Tax Forum Call.'
UNDER THE BONNET
This website upgrade isn't just skin-deep. While enhancing its appearance and functionality, we're also taking the opportunity to make a number of technical improvements to the site. Perhaps most importantly, we're further increasing security by adopting a new content management system (CMS) and making changes to our IT infrastructure. We've also made our pages more Google-friendly so that a bigger audience can find us. Searches within the website itself will also be better organised with filters to search within different topics.
IT'S YOUR WEBSITE
We've been keen to listen to you while designing this upgrade. A member focus group has provided us with valuable insights throughout the development process and will continue to be involved in subsequent phases. We'd like to thank all who've contributed for their efforts. Our recent member satisfaction survey has shown that we ranked well against other associations for the content of our site, but there was room for improvement on visual appeal, user friendliness and the ability to find information. Our new design has focused on these concerns.
WHAT'S NEXT?
The website's evolution will continue to progress and meet members' and the industry's changing needs. Throughout 2018, we will roll-out updates to ensure consistency and a seamless user experience across the whole website, while introducing new features.
What's different?
Improved left hand side navigation
New look and flow
Better search functionality
Google friendly content
All related information in one place
Member directory includes company and individual details
Library in the footer