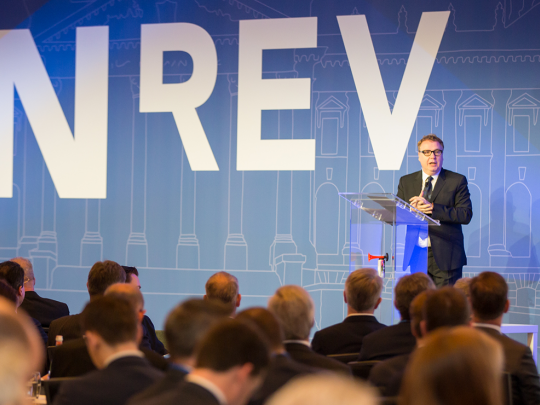 The INREV Annual Conference 2019 promises to stretch the mind and inspire the appetite for savvy late cycle investment amid the central challenge of uncertainty. How to interpret the larger uncertainties of our time and to navigate the many options and scenarios they create? How to act responsibly when so little is predictable, and how to be ready to seize opportunity when it comes? These are a few of the mind-stretching issues we will address.
Prof Andrea Boltho will lead the charge with a determined quest to 'make sense of uncertainty'. This promises to be intriguing. Can we really make sense of this uncertainty? or can we just learn to live it and work with it? He will be followed by 4 leading INREV members who will tour today's Europe to reveal opportunity, responsibility, and differentiation. They will compete for your capital. You may be surprised by the decisions you will make. Are you certain what you will pick?
Ruud Veltenaar, will take us straight to the critical uncertainty of our time, the future of our planet. How to address global warming whilst leading a successful business? Ruud will propose a tested programme for how RE Investors can reverse climate change. An expert panel, led by Peter Hobbs, that will define how impact investing can renew the planet and make profit.
If these themes are not enough, our afternoon will investigate the apparent contradiction of how to sustain growth during a global slowdown? What are the tools and tactics for achieving this optimistic quest? Mahdi Mokrane will moderate, Mike DiRie and Rainer Komenda will debate, discover, and share the spoils. 
The future of Europe is our next uncertainty. Jeroen Dijselbloem, Former Minister in the Dutch Government, will lead the debate. Once mighty, and still smart, but where are we to go from here? 
To conclude our day of uncertainty we will re-enter the atmosphere of facts as Guido Verhoef and Nick Blakemore launch the new INREV asset level index. Can indexes take our uncertainty away?
On Thursday morning we kick off with the wonderful Andrea Carpenter interviewing the formidable Greystar CEO and Founder Bob Faith. In a recent interview Bob Faith said: "If you just keep doing the exact same thing over and over, the world's going to pass you by. In business, you have to identify the great trains of opportunity and make sure you're positioned to get onto them, instead of in front of them". We don't want to miss that train, do we?
Then the uncertainty just keeps rolling……… Italy, Digitisation, Wellbeing, and Living to be 100 years old! Yes, really. But with Monica Billio, Richard Bloxham, Rives Taylor, and Linda Gratton stoking the engine we are sure to stay on track. Aren't we? How certain are you? 
Although this INREV conference is about uncertainty, there are some things you can always be certain about. Attendees will leave the conference with renewed perspectives, refreshed knowledge and perhaps new strategies to navigate the uncertainties that are upon us.
Finally, Venice is………….only Friedrich Nietzsche can really explain that:
At the bridge I stood lately in the brown night. 
From afar came a song: 
as a golden drop it welled over the quivering surface. 
Gondolas, lights, and music 
-- drunken it swam out into the twilight. 
My soul, a stringed instrument, 
sang to itself, invisibly touched, 
a secret gondola song, 
quivering with iridescent happiness. 
-- Did anyone listen to it? 

Greg Clark, Conference Moderator.