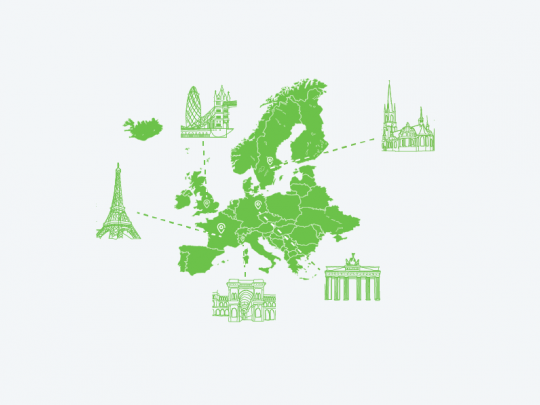 This January was all about Investment Intentions, the annually published report exploring the aspirations for investment into the real estate sector over the following two years with a focus on non-listed real estate funds. The report is a collaboration between INREV, ANREV and PREA.
Throughout January we published the report – a new look and feel enabling members to get to the most relevant highlights, along with a complimentary snapshot, infographic, chartbook and excel file. We also presented key highlights with a regional focus throughout Europe, stopping off in London, Amsterdam, Munich and Helsinki as part of the Investment Intentions Roadshow events, and held an online briefing for those who couldn't make it in person.
To conclude a busy month, here is a round-up of the regional highlights plus a link to the paper, presentations from the events and the recording of the online briefing. We look forward to seeing you next year to present the 2024 results.
European highlights:
Inflation hedge characteristics of real estate gain importance among investors.

The shift towards core strategies is clear in all three regions, with European investors being the most risk-averse.

European investors are in the lead when looking at ESG-related factors, with three quarters incorporating climate change intotheir real estate investment decisions.

Over 90% of European investors consider funds' net zero carbon commitment before investing.

On an equally weighted basis, non-listed real estate debt and joint ventures feature as the top two access routes, with 62% and 39% net increase positions, respectively.
United Kingdom:
The UK remains the third preferred investment location in Europe in 2023, mainly driven by interest from non-European investors.

The UK Office market came in at a shared fifth place when it comes to most preferred country and sector combinations, losing ground compared to last year when it was investors' top choice. 

London remains the most preferred city destination in the UK with its Office (joint third) and Residential market (joint seventh) making its way to the top ten preferred city and sector combinations.
Nordics:
While all Nordic countries featured in the top ten preferred investment destinations last year, it is only Denmark and Finland that retained their spot, coming in at joint sixth place in 2023.

On an equally weighted basis, investors from the Nordics currently have an above average  allocation to real estate at 17.9%. This compares to 13.0% for all European investors.

The Danish residential market is the most preferred country/sector combination in the Nordics region with a shared 15th place.

In the Nordics, 100% of investors consider whether a fund is committed to becoming net zero carbon and are promoting environmentally and socially responsible investments before investing. This is significantly higher than the 71% and 81%, respectively, that is reported at the global level.
Germany:
Across all investor domiciles Germany is tied with France as the most preferred investment destination in Europe for 2023, and for European investors specifically, Germany is the most attractive destination.

Notwithstanding uncertainty about the future of the office market in response to COVID-19, the German Office market, together with the French Office market, is viewed as the most interesting country/sector combination to deploy capital in the next year.

Berlin and Munich both appeared twice in the top ten most preferred city and sector combinations, with their office and residential sectors, respectively.

On an equally weighted basis, German investors reported an average real estate allocation of 12.8%, slightly lower than their European counterparts at 13.0%.
France:
Across all investor domiciles France is tied with Germany as the most preferred investment destination in Europe in 2023, however, non-European investors identified France as the most attractive of the two.

The top ten preferred country/sector combinations feature France residential, France industrial/logistics and France office, with the latter being identified as most attractive together with the German office market.

Paris appeared three times in the top 10 most preferred city/sector combinations with its Office (42%), Industrial/logistics (31%) and Residential (27%) market, making it the most popular city destination for 2023.
Netherlands:
The Netherlands come in at fourth place when it comes to preferred investment destinations in Europe in 2023. This is likely aided by a broader retreat to home markets and strong institutional investor base in the Netherlands.

The Dutch industrial/logistics and residential market are tied in fifth place for most preferred country/sector combinations in 2023,  along with the UK office market. This is a notable improvement compared to last year when they were ranked 12th and 15th place respectively.

Amsterdam features in the top ten city/sector combinations for the first time since it was included in the survey two years ago, with its residential market coming in at a joint third place this year.

In the Netherlands, all investors consider whether a fund is promoting environmentally and/or socially responsible investments, as well as being committed to becoming net zero carbon before investing. This compares to 81% and 71% at the global level, respectively.
Southern Europe
On the back of persisting economic uncertainty momentum towards second-tier markets slowed in 2023. Only 31% of surveyed respondents indicated Spain as a preferred investment destination while for Italy it was only 23%. This is down significantly from the 62% and 45% that was reported last year, respectively.

Spain was overtaken by the Netherlands as preferred investment destination this year and slid into fifth place, while Italy is tied in sixth place together with Denmark, Finland and Belgium. 

In terms of most preferred city/sector combinations, the Madrid office market is the highest placed for Spain (tied 12th place). For Italy, it is the Milan industrial/logistics market that is considered to be the most attractive capital destination (tied 17th place).