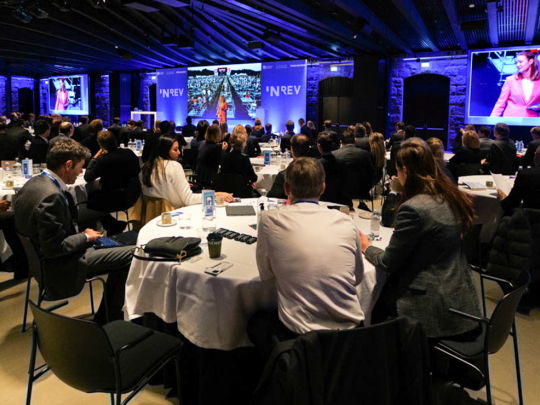 Net Zero Carbon firmly on the Agenda at the Autumn Conference in Copenhagen
The Investor-only Seminar and Autumn Conference took place last week on Wednesday and Thursday in Copenhagen attended by over 250 delegates from across Europe who were delighted to meet in person again after an almost two year spell of online meetings and conferences (including our own). The conference was expertly moderated by Matthew Ryall, CEO, Impact Investment Management and Gabi Stein, Managing Director, Nuveen who brought together the discussions and topical debate over the one-day programme. 

Following on from the launch of INREV's first paper  dedicated to the important Net Zero discussion, the topic was also centre stage at the Investor-only Seminar and the main Autumn Conference Programme.  

One speaker noted that it is very promising to see the Climate and Net Zero at the top of the agenda for all manner of players in the non-listed real estate industry.
 
You can playback the recording of the conference, take a look at a selection of pictures and see the presentations via the button below

Autumn Conference 2021 
 
A positive outlook for the economy in 2022 
Paul Donovan, Chief Economist at UBS highlighted some of the most pressing economic concerns of inflation and global supply chain issues, addressing them as temporary issues that will correct themselves. Paul stated that current inflation is caused by increased spending power which has been fuelled by consumers going on a spending spree following months of lockdown. When the spending power decreases again, inflation will in turn ease the global supply chain crisis. Referencing the fourth industrial revolution, Paul also shared his view that it is not technology that is the disruptor but rather how technology is used. A new computer will not change the world, but when a computer enables you to work from home for months on end, that can be life changing and causes a knock-on effect for many areas such as groceries, office space and transport demand, to name just a few. Paul concluded that we are on for a stable recovery in 2022 given that we strive for a diverse, inclusive and flexible workforce. 

Buildings that meet social needs  
Xavier Jongen, Managing Director, Catella Residential Investment Management presented the case for buildings that meet the social needs of society. 'We need to change the rules of engagement' urged Xavier. The audience heard a call for a new approach to asset pricing that values their social impact, which isn't reflected in modern portfolio theory. 

Xavier also argues our industry to look closely at the technological and engineering developments. Presenting a building in Strasbourg – the world's first energy positive building, he encouraged others to strive for buildings that improve the lives of the occupants and the surrounding community. Even as occupants change over time, from residential to office workers for example, the buildings will retain value while already meeting net zero carbon goals today.  
Trends that drive strategy  
Alberto Agazzi, CEO and GM, Generali Real Estate and Anthony Biddulph, Head of Funds Placement, JLL joined the stage as we turned to translating trends into strategy. Both quickly agreed that sustainability is driving demand not only from the institutional level but right the way down to the consumers who are pushing this agenda. Alberto also cited identification of demographic trends as a key driver, such as where talent is migrating – Japan may have a shrinking society but the major cities are growing. Similarly, Anthony declared, 'Location, Location, Location (and proximity) as a key driver. 

How do private markets contribute to our collective social responsibility

Three pannelists joined the stage - Jerome Berenz, Head of Indirect Investments, Allianz Real Estate, Frans Heijbel, Head of International Real Assets, Alecta and Hamish Mackenzie, Head of Infrastructure, DWS for a discussion on how the built environment plans to be part of the solution given that it is  responsible for 40% of global carbon emissions. Jerome immediately responded that the green agenda has accelerated over the previous two years and is even dramatically changing the way he works. 'There is a sense of urgency' he explained, 'and while Allianz Group has set a target to be Net Zero by 2050, what is even more interesting is that in the shorter term we want to reduce emissions by 20% by 2025.' 

Frans, overseeing both real estate and infrastructure, and part of the Net Zero Asset Owner Alliance shared that there's a need to meet the targets set out by the Paris Agreement and when entering into any partnerships, it is important to ensure that all partners are aligned in shared values and commit to them. 

Hamish, commented that ESG is intrinsically established in infrastructure due to the nature of the assets. He described ESG as an evolutionary approach rather than a revolutionary one, saying 'In 2009 we already filed our first SRI report and were able to record and report all aspects of ESG, and investors have been demanding that'. 

Building the pathway towards Net Zero
Etienne Cadestin, Founder and Global CEO of Longevity Partners joined us to share some steps to success in achieving Net Zero. This starts with identifying what it means to be sustainable, then, committing to it and setting up short term realistic targets. Following that, you  focus on optimising your assets. 'In a typical office building, 45% of carbon emissions can be reduced via onsite-improvements.' said Etienne. 

Green Heroes 
Sharing some tangible options to meet the ESG agenda, Justin Travlos, Global Head of responsible Investment, AXA IM Alts presented Dolphin Square in London – a building with an incredible history and rather interesting list of previous tenants. The prime asset now aims to attract a broad tenant base to its aspirational living environment and low living costs. The building features a strong social focus with a number of social spaces open to the public, and was also an energy-led regeneration project resulting in a 5-10% reduction in operating costs. 

Next up, Elizabeth Hermann Frederiksen, Head of Sustainability, NREP presented a future development in Copenhagen – a project steered by the UN Sustainability Development Goals – UN17 Village. In the design and planning stage of the project, NREP took part in an SDG incubator to really understand the materiality of the project and what are the sustainability use cases in the building. Even though the project is still in the design phase, NREP are already working hard on the data, documentation, impact and measurement phase to be able to fully understand the impact of the project when it is fully realised. 

How human behaviour will evolve post pandemic
Concluding a full day of the latest insights, trends and sharing of thoughts and ideas, Sarah Harper, Director and Clore Professor of Gerontology, University of Oxford joined via live stream to share the impacts of the global pandemic starting with a shocking statistic that COVID has had a major impact on life expectancy, with a decrease in life expectancy in the US of 1.67 years, and that fertility has fallen and is unlikely to rebound. At the same time, she noted that our knowledge of immune system response, immunisation  and chronic diseases has skyrocketed, which is no doubt set to have a positive impact on global health. In addition, the percentage of the 'old' population is increasing and the number of people over 100 is increasingly dramatically. In the UK alone there are expected to be over 1.5 million centennials by the end of the century, presenting some opportunities for senior living, medical facilities and care homes. 

View recording