An update on the latest insights and trends from the non-listed real estate industry
We invite you to join us for the INREV Autumn Conference on 20 and 21 November at Hotel Okura, Amsterdam. This insightful conference will bring together mid-senior level industry players and experts, highlighting external trends that are impacting the non-listed real estate industry.
Programme available
Registration is now open
In case you have any questions please reach out to INREV Events.

Our keynote speaker is Bjørn Lomborg, author and president of the think tank Copenhagen Consensus Center, who will present on identifying effective solutions for global change. 
Attendees can also look forward to a thought-provoking presentation on the global macroeconomic outlook by Edin Mujagić from OHV Vermogensbeheer. Followed by a presentation on repricing and refinancing by Brian Klinksiek from LaSalle.
Other presentations include the impact of changing pension schemes on real estate allocations by Louise Farrand of DC Investment Forum; the impact of AI on our society Elin Hauge, AI and Business Strategistand how to build a more diverse industry by Aimée Massey from Future Act Diversity. 
Hotel accommodation - Mandatory
Attendance of this conference is free of charge. However, INREV arranges accommodation for all attending representatives based outside of The Netherlands. Use of this accommodation is mandatory for the night of 20 November 2023. Delegates are kindly asked to settle the payment directly to the hotel before departure. The bedroom rate is €250 per night including breakfast.
Registration process 
INREV membership is at a corporate level. To provide as many members as possible with the opportunity to attend the conference, INREV offers a limited number of seats per member company. Please read this information carefully before registering.
Guaranteed corporate seats
INREV offers 1 seat per non-investor member company

INREV offers 2 seats per Funds of Funds/Multi Manager members and Investor Member company
These corporate seats are guaranteed and kept available until Friday 6 October 2023.
If you are taking up this corporate seat, please indicate this on the event registration form. It is the member company's responsibility to designate these corporate seats to specific member representatives.
Personal seats
In addition to the corporate seat, the following members are entitled to a guaranteed personal seat:
Committee members and chairs

Management Board members
This personal seat is non-transferable and kept available until Friday 6 October 2023. If you are taking up a personal seat, please indicate this on the event registration form.
Waiting list
Any additional interested member representatives are encouraged to register and will be placed on the waiting list. INREV will make the best effort to accommodate these requests. Assignment of seats to member representatives on the waiting list is at INREV's discretion.
Programme
13:00
16:00
End of committee meetings
17:30
Boat transfer to the Maritime Museum
18:30
Evening programme and dinner at the Maritime Museum
22:00
Bus transfer back to Hotel Okura
09:00
Speakers
Founder (Conference Moderator)
Diversity Talks Real Estate
President
Copenhagen Consensus Center
Global Head of Research & Strategy
LaSalle
Director
Future Act Diversity
Sponsorship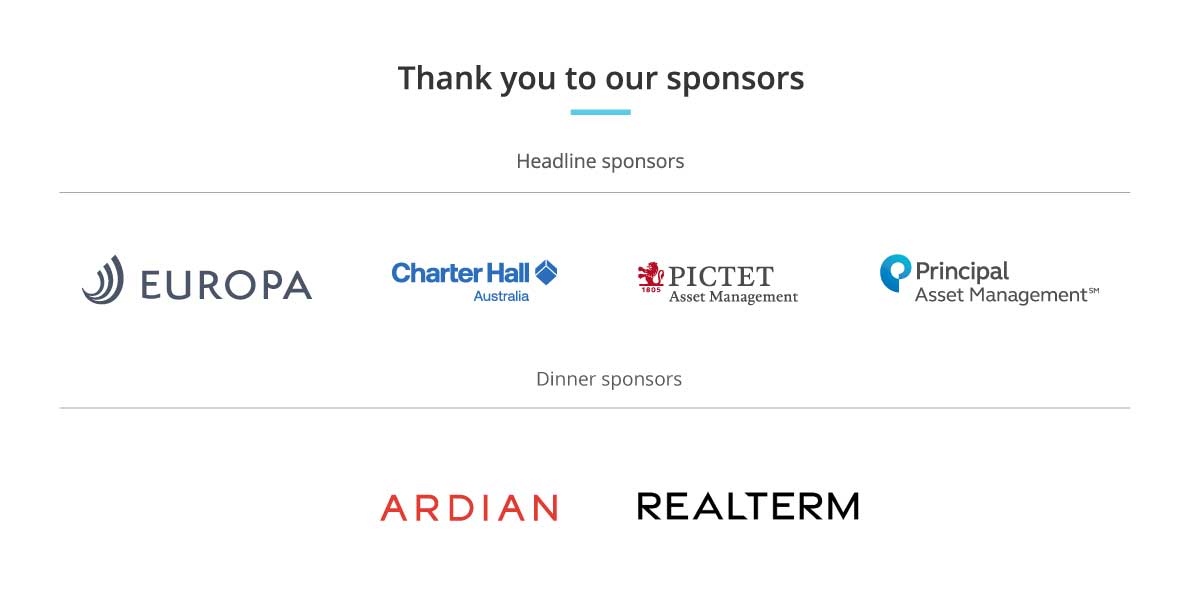 PHOTOS