ESG SDDS (Standard Data Delivery Sheet)
The ESG SDDS is a brand new ESG reporting template designed to standardise the disclosure and reporting of ESG Key Performance Indicators (KPIs) for real estate investment vehicles. The template includes machine-readable labels, making it easier to read and compare data, potentially streamlining the exchange of ESG information and paving the way for automation. ​
This template was released in November 2023, in conjunction with the SDDS 4.0.
Interested in learning more about the ESG SDDS? Register for the briefing on how to practically implement the SDDS and ESG SDDS on 30 November.
The INREV ESG reporting template is designed to facilitate ESG data exchange and standardise the way ESG KPIs are reported for real estate investment vehicles. This ESG reporting template covers the required ESG KPIs of the INREV Guidelines as well as recommended ESG KPIs (included as an appendix). It contains vehicle and asset level data fields and definitions. The vehicle level KPIs can be calculated based on asset data. ​
The ESG SDDS references key regulatory requirements, such as SFDR, and can be linked to external data sources such as Global Real Estate Sustainability Benchmark (GRESB). Equally, users can directly input asset level data or vehicle summary level data into the template to meet the requirements. ​
There is no prescribed timing of reporting. Collecting and consolidating ESG data, including tenant data, is complex and will likely rely on multiple data sources and service providers. As such, this template may be released as part of a separate ESG reporting package, depending on investor requirements.​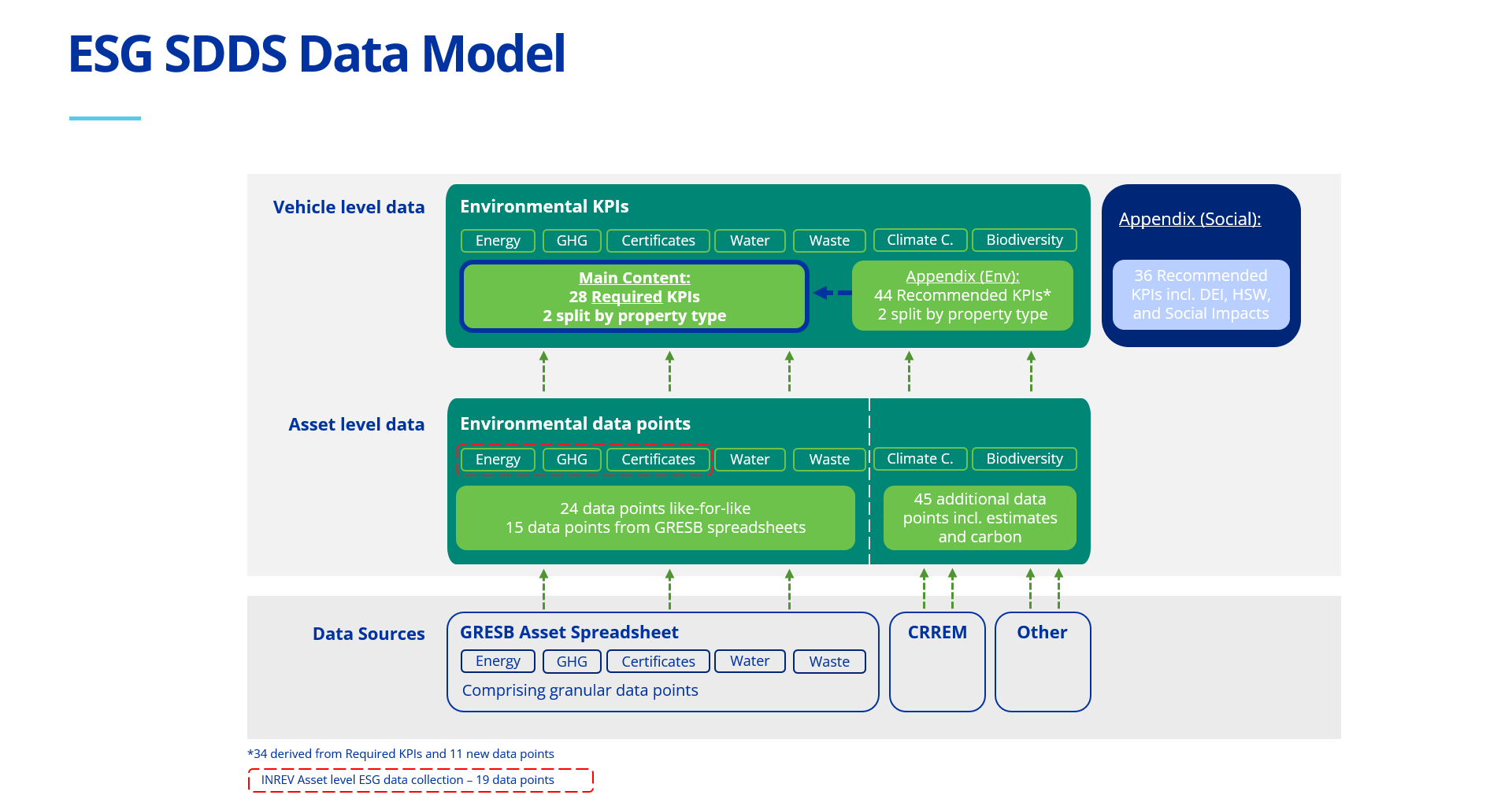 Latest publications and downloads
ESG SDDS (Standard Data Delivery Sheet)
Published on 31 Oct 2023 Share
Who should use the ESG SDDS?

How to fill in the ESG SDDS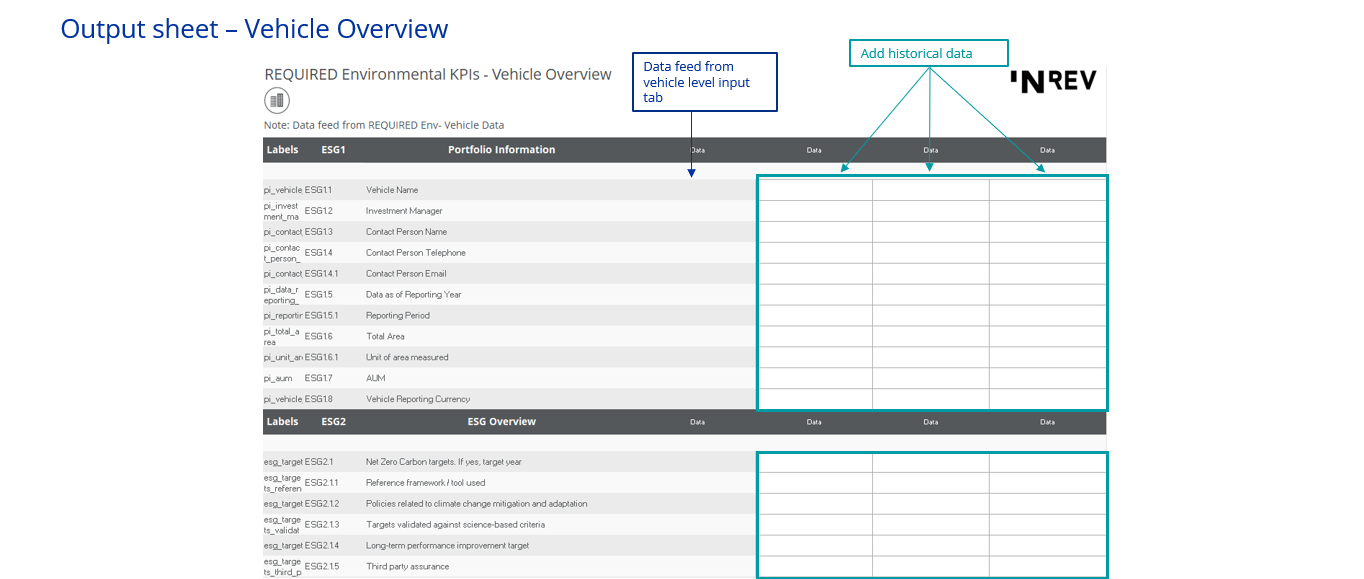 ESG SDDS (Standard Data Delivery Sheet)
Published on 31 Oct 2023 Share
What investor members say
 

'The new INREV ESG SDDS is improving the way investors receive and evaluate information from managers, making investment analysis effortless and efficient.

Investors can now conduct comprehensive ESG evaluations at both a vehicle and property level, enabling more informed decision-making.'

Amilcar Grot, Senior Portfolio Manager,
Achmea Investment Management

 
 
 
 

'We have been using the INREV SDDS for a while, and the recent updates will ensure that we continue to do so, especially with the addition of a new asset-level data section, comprehensive and consistent ESG reporting through the brand-new ESG SDDS template, along with references to SFDR.'

Derk Welling, Senior Responsible Investment & Governance Manager,
APG Asset Management

 
 
 
 

'The INREV ESG SDDS is adding further transparency by defining material/commonly used KPIs that are relevant for our market and thus facilitating comparability and objectivity.

In an effort to efficiently navigate the current overwhelming ESG reporting and needs, the INREV ESG SDDS takes into consideration some of the frameworks used by ESG benchmarking protocols and ESG regulations also aiming to find a balance between "quality" and "quantity".'

Fabio Cristanziani, CFA – Head of ESG Private Assets Investments,
Generali Real Estate

 
 
 
 

'The new ESG reporting template is a strong framework that considers critical KPIs and multiple reporting dimensions in a centralized manner. It represents a significant step towards more standardised processes across the industry and an important win for both managers and investors.'

Jérôme Berenz, Head of Indirect Investments,
Pimco Prime Real Estate