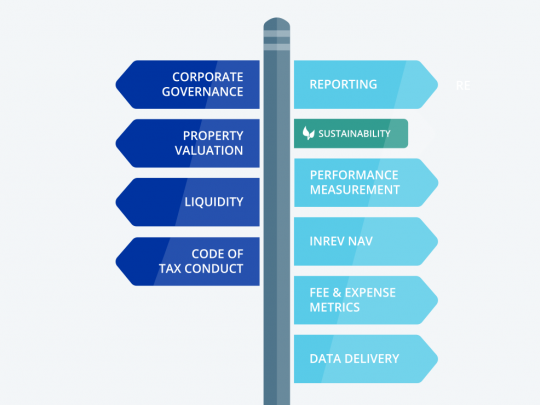 INREV members have strongly supported the establishment of industry guidelines and have contributed to the development of an integrated set of guidelines, including standardised templates, tools and examples to support transparency and consistent information exchange between investors and investment managers of non-listed real estate vehicles.
The INREV Guidelines are currently organised into nine modules. Some of them are best practice modules, while others are compliance modules.
The best practice modules are more qualitative in nature and individual vehicles will adopt the guidelines in different ways. These are:
The modules that are technical in nature and leave no room for interpretation are the compliance modules. These are:

According to the latest member survey results 94% of members use the Guidelines, and the Reporting module is the most used. 

Earlier this year we embarked on a comprehensive review project to identify whether additional guidelines, or changes of existing guidelines are required. A number of potential enhancements to the INREV Guidelines have been identified together with the committees such as Integration of ESG into the different modules of the INREV Guidelines and development of a new stand-alone Sustainability module and asset level reporting of performance. 
Next week, we will present the reviewed INREV Corporate Governance and Performance Measurement modules, which will be open for member consultation until mid November. During this period members will have the opportunity to learn more about the changes, and to share their thoughts via two Round Table events and a briefing. Stay tuned..
INREV Guidelines eLearning Course
Between 9 November and 2 December 2021, you can deepen your knowledge of the INREV Guidelines with this brand new INREV Guidelines eLearning course via nine eLearning modules, homework assignments, live Q&A and case studies, spread out into manageable chunks of approximately five hours content per week.