INREV Annual Conference 2018 Dublin: presentation summaries
The INREV Annual Conference 2018 Dublin opened with a bang to celebrate INREV's 15th anniversary. We have matured a great deal as an industry over the past 15 years and are in a good position 7 years into the recovery of this cycle. At this time, when things are positive, we need to ensure we are ready for the stormy times ahead.

If 'midnight' is the end of the current economic cycle, 50% of delegates believe we are currently sitting at 22:00 in Europe. Many of our speakers agreed, but what things will look like as we approach midnight was debated.

Several key themes emerged over the course of the week: global economics, global politics and mega trends, and with Ireland as our host, the impact of Brexit was high on people's minds.

But with change comes opportunity, and sustainability, health and wellness, impact investing, alternatives, technology, data and innovation are no longer niche discussions, but have become tomorrow's core.
Identifying the risk amid global growth - Dr Michael Heise
Dr Michael Heise, Chief Economist, Allianz, agrees with the audience's assessment regarding where we are in the economic cycle – if midnight is the end, he believes the world real estate economy is at 22:45, Europe is at 21:45, the US at 23:00, and China is already past midnight. 

Michael warned that protectionism, inflation, debt and geopolitical issues are the top risks which could lead to a dramatic over-heating.

His advice to investors is to:
Price political uncertainties and protectionism 
Risk always builds up in good times: expect a return of volatility which dampens growth in the future
The big idiosyncratic risk is inflation, which would end monetary accommodation
He ended on a hopeful note: real assets are a good asset class to invest in, and business prospects are good. Economic growth in Europe will continue, there is room for growth for some time to come, which will reduce populism.
Annual Conference 2018 Dublin: presentations and video
Published on 12 Apr 2018 Share
Around the regions: Mega trends and peak pricing - Panel

A panel moderated by Greg Clarke discussed mega trends and peak pricing in three regions around the globe.
Representing Europe, Alice Breheny, Head of Global Real Estate Research, TH Real Estate, argued that the real estate industry is too obsessed with cycles. There are other disruptors at play, such as the megatrends of ageing, technology, urbanisation and climate change, which will make some places less viable regardless of the cycle. 

European cities' global importance is on the decline. In 2000, 14 of the top 50 global cities were European. In 2030, it will drop to 7, with Asia taking over half the top 50.
But population and productivity are not the only ways to measure the value of a city. In addition to prosperity, Alice and her team rank cities by personality, progressiveness and sustainability. Despite lower productivity, of the 91 cities her team has identified for investment, 40 are in Europe. Real estate is not just about location, location, location, but also about people, people, people.

Representing Asia Pacific, Glyn Nelson, Head of Research Asia, AEW, emphasised that Asia Pacific is dominated by investment within China, but Chinese capital continues to buy offshore. Asia Pacific, European and North American investors are all under-allocated to Asia, where investors are seeking a spread of risk, debt costs, positive cash yields and diversification.

Opportunities in Asia include office markets that are landlord favourable (eg. Sydney, Singapore), and the region is spending 46% more on transport infrastructure than the rest of the world combined. 

Representing North America, Mark Roberts, Head of Research and Strategy for the Alternatives and Real Assets Platform, Deutsche Asset Management, considers the US market to be around 23:00 on the cycle's clock. But he emphasised that even when the clock strikes midnight, there is a lead time of 1-2 years before the full effects set in. 

Mark cited four killers of a real estate cycle: (1) a market in recession, and its impact on job growth (2) amount of new supply / construction (3) the state of the capital markets and debt, (4) what the cap rates are. Opportunities in North America include west coast and Florida, which Mark expects to outperform, Boston and Austin as the beneficiaries of tech investments, and the current under-valuation of REITs.

When asked about the impact of technology on the clock, panellists reiterated that disruption is coming. Invest in locations that are set to benefit from technology.
Annual Conference 2018 Dublin: presentations and video
Published on 12 Apr 2018 Share
Sustainable investing: Doing well, doing good - presentation and panel

Sustainable investing is no longer a niche pursuit, but is now mainstream. Sustainable investing does not necessarily require a financial trade-off, we are increasingly seeing a performance increase from ESG. 
These were the central messages of John McKinley, Director, Impact Investing, BlackRock and three panelists (Nehla Krir, AXA IM – Real Assets, Raymond Jacobs, Franklin Templeton Real Asset Advisors, and Derk Welling, APG Asset Management) who joined him to discuss how investments can do good, while performing well.
ESG management is simply smarter long term investing. We have a lot more data and proof points to highlight the correlation between higher ESG and increased economic performance.
What is currently driving ESG and impact investment is the expectations of Millennials as tenants, reputation management, regulation, corporate engagement and risk. Climate change and health and wellness are the top two issues in sustainability.
ESG is a win-win (-win) – it's a moral, financial and risk benefit.
Global investors: Allocations and expectations in a liquid market - Debate

Megan Walters, Head of Research Asia Pacific at JLL, moderated a global investor panel with Chung Keun Kim, Senior Director at Korea Investment Corporation, Dennis Lopez, CEO at QuadReal Property Group, Paul Mouchakkaa, Managing Investment Director of Real Assets at CalPERS, and Michael Bruhn, Director Real Estate at PFA Pension.

When asked about geopolitical risks, panelists all agreed that, while difficult to ignore, these risks are also difficult to underwrite. Michael emphasised that on a 20-30 year investment horizon, geopolitical issues are just blips. His team is much more concerned with mega trends.

When looking at new markets, panelists unanimously agreed that transparency and rule of law are paramount, while track record is secondary to other considerations. All panelists agreed that, when selecting a manager, value creation and ability to execute their investment strategy were key.

When asked about how sustainable investments fit into their investments decisions, they all emphasised that it continues to grow in importance.
Annual Conference 2018 Dublin: presentations and video
Published on 12 Apr 2018 Share
Uniting a changing Europe - Joschka Fischer

While 55% of the audience believe Russia to be the biggest threat to global stability in the next two years, Joschka Fischer, Former Minister of Foreign Affairs, Germany, declared the rise of China and America's reaction to this as the biggest threat. 

The west is in a dramatic crisis now. The two founding members of the trans-Atlantic west, the US and Britain, have both within one year of each other said farewell to the west. 

America is no longer ready to take a leading role in the world order, this was the message of the last election. Trump, with the backing of his supporters, is actively trying to destroy the liberal world order from the top. But Trump and Brexit are not the root cause, they are simply symptoms of a deeper change in the emotional mood of voters.

The centre of gravity, which was traditionally based in the Atlantic region for the last 200 years, has moved to east Asia. In its wake, an unstable – but necessary – relationship is developing between China and the US: Chimerica. Chimerica will run the world together as trade partners, with minor confrontations along the way.

Europe will need to further develop its role to move ahead in this new world order. He suggests three reforms:
Invest in Europe's security, if we want to preserve freedom of movement, we must protect our external border at a European scale, especially without Turkey as a key security partner
Streamlined economic and financial strategy
Stabilisation of the debt challenge in the Mediterranean
Rooms at the top - Nick Porter Interview

Andrea Carpenter, Director at Women Talk Real Estate interviewed the entrepreneur widely credited with starting the student accommodation industry, Nick Porter, Chairman & Founder of Global Student Accommodation Group.

Nick first began in student housing at the age of 16 with 4 apartments housing 12 students, financed via 15 credit cards. Nick was never a student himself, but he spends a lot of time building relationships with his clients and partners – university chancellors, students, and parents of students. 'Every year we get older, but every year our customers stay the same age. We have to innovate, we have to stay relevant.'

Nick may be in alternatives, but he does not take risk lightly. He watched his parents loose almost everything in the 1980s when they were invested in rental accommodation. 

Nick has never been more energised about student accommodation than he is now – over the next 10 years there will be 100 million more students in higher education globally. In recent years, the sector has seen interest from global investors, and his operations have expanded throughout Europe and Asia Pacific, and he has plans to go into North America. 

With semester-based learning on the rise, they will be launching a global platform where all their students will have access and can stay connected as they move to different locations globally. 
View from Dublin: Growth in the shadow of Brexit - Danny McCoy
According to Danny McCoy, CEO of Ibec, nowhere on Earth has the scale and substance that the Irish economy has right now.

Ireland has experienced a population decrease over the last 150 years, and now has twice the European average of foreigners with high education.

Ireland also does not have any brownfield baggage, as the country was never fully industrialised.

In recent years, Ireland has benefited greatly from the alignment between substance and tax strategy. New global rules on taxes greatly benefit Anglo-Saxon, common law hubs of Britain and Ireland. And with Britain bowing out of the race, Ireland is the only remaining player. With this focus in intangibles, Ireland may have skipped the first industrial revolution, but it is not missing out on the fourth.
Embracing disruption: Innovation and data in real estate - Claire Penny

Claire Penny, Global Industry Leader, Watson IoT for Buildings at IBM, presented her take on location, location, location: information, information, information.

Buildings have moved from automated (1980-2000), to smart (2000-2015) and are now becoming cognitive (>2015), which take real life dynamics and react very quickly, using machine learning.

The audience was split on how many of their new buildings now have intelligent systems that allow them to know any part that is not working well or needs replacing, and where the part is best sourced – only 6% voted that this was 'true' of their buildings, 48% voted 'not true', and 46% voted 'partially true'.

Information alone is not enough, we need to know how to use it. In all phases of our customer journey – design, construction and in-use – there is room for disruption and improvement. Digital twins are one way to do this – they give an accurate representation of the physical asset and, if maintained throughout the asset life cycle, can give us the information needed to act upon data that a cognitive building is telling us.

Optimising space, buildings and providing services can all be enabled by technology. Technology is not a silver bullet, but a tool that helps you deliver your business.
Annual Conference 2018 Dublin: presentations and video
Published on 12 Apr 2018 Share
Capital dislocation: London vs the continent - Debate

A lively debate between Marco Hekman, CBRE EMEA and Tony Horrell, Colliers on capital dislocation kicked off with an audience poll – 69% of delegates think that Brexit means London's role will decrease in comparison to other European cities. 

Marco backed this sentiment and told us that the UK was in a really slow car crash. In the last 15 years London has been the global financial hub. If there's a hard Brexit that power will go to New York. Marco cited Paris as the most sought after European city for investors, although London will remain a gateway city. 

Tony was of the firm opinion that the EU has become too complicated, and that it will take years and years to build a self-sustaining financial infrastructure. In Tony's opinion you need to be quick, it's the nimblest that will benefit. It all about scale and size matters. 

Both Marco and Tony agreed that London is reinventing itself quickly, with a strong technology base, but it's the rest of the UK that Marco believes will feel the impact of Brexit. Tony reminded us that the majority in London voted to stay, it was the rest that voted to leave. He felt that cities such as Edinburgh have felt the shock. 

Did you know that in 2017 a total of €152.3 billion of new equity was raised for non-listed real estate globally? Europe topped the list as the investment destination of choice.
Capital Raising Survey 2018
Published on 10 Apr 2018 Share
The Capital Raising Survey is a backward-looking analysis of recent capital raising activities by region, investment strategy, style, structure and other factors. This survey has been conducted annually since 2006. Since 2015, the survey has been global in scope, thanks to the involvement of ANREV and NCREIF.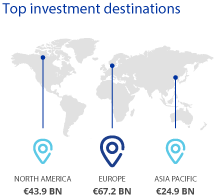 The power of wishful thinking - Tim Harford

Tim Harford, the undercover economist took us on a colourful journey to understand wishful thinking, motivated reasoning and how we could try to be aware of it in our decision making. 

We take in objective information but how we process and rationalise it is based on wishful thinking. We systematically perceive things in the way we want to perceive it and bypass information we don't want to hear. The more of an expert you are on a subject, the more likely you are to make a decision based on wishful thinking. 

We only have to look at national elections to understand the power of wishful thinking. In the run up to Brexit everyone convinced themselves that it wouldn't happen, despite 10 consecutive opinion polls that put leave ahead. People believed what they wanted to believe. 

The election of Trump is a perfect example of motivated reasoning - he claimed that he would make America great again, that's what the people wanted to hear rather than how it would happen. 

It's difficult to avoid wishful thinking but we can be more aware of it in our decision making.  

Tim provided a few tips: 
Understand your emotional response
Keep score, follow-up on previous forecasts
Always maintain a spirit of curiosity
Listen to rational debates on the subject
I wonder if the delegates' polls -- on Brexit, impact of technology, and where we are in the current cycle -- would have changed, if polled after this afternoon's debate, or is that wishful thinking?
Marieke van Kamp, INREV Chairman closed the conference with a video summary of our three days in Dublin, and invited everyone to save the date for the Annual Conference 2019 Venice, to be held on Tuesday 3 and Wednesday 4 April 2019. 

Mark your agendas.