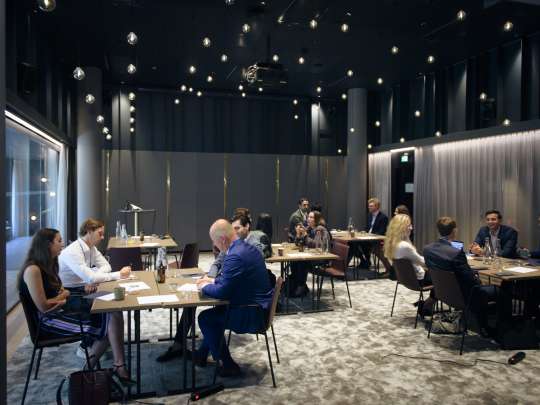 The INREV Mentorship Programme offers young professionals the unique opportunity to gain valuable insights from seasoned industry experts in a small group setting. Both mentors and mentees can benefit from the programme. These are some of the positive impressions our participants have shared:  

Mentors:

'Being a mentor is a super experience. It also gives us the opportunity to learn new things, which we can apply in our day-to-day activities.'

'I'm very pleased and impressed with the mentees I've been matched with. As a team, we connect well, and they also reach out to me individually for mentorship. We discuss many relevant topics during our group sessions as well as in our one-to-one meetings.'

Mentees:

'What a fantastic opportunity! I've also made some close friends in my industry, who I connect with at INREV Young Professional events. My mentor is always keen to help me, and I found our one-on-one session incredibly insightful.'

'Our mentor is such an active listener and motivator. She really helps us see things in a new light and motivates us to be our best selves. We all feel very safe to participate in our sessions and she encourages us to be open and transparent, which I really value.'

'Without a doubt, the INREV Mentorship Programme has been the most valuable professional networking experience I've had in my career so far'.

Mentees – upgrade your skills and network 

This is your chance to receive personalised advice and upgrade your skills. To apply for our Mentorship Programme, you must be an INREV Young Professional (35 years and younger) with three- to five years of non-listed real estate work experience. Successful mentees will be chosen based on their motivation and application form responses. 

Mentors – share your wealth of knowledge 

To make our programme a continued success, we are also looking for mentors. As a seasoned industry player, your invaluable expertise and real-world knowledge can help mentees learn and succeed. If selected, you will need to contribute your time, experience and industry advice with a small group of three  mentees  throughout the year. Mentors will be chosen based on their motivation and application form responses. 

2023-2024 Programme Overview
The Mentorship Programme runs from June 2023 to June 2024. The introductory session will kick off at the INREV Young Professionals Conference in Berlin on Tuesday 20 June, which all mentees and mentors are expected to attend. 

Throughout the year, mentees and mentors meet six times in a small group setting for up to one and a half hours. The small group size ensures that everyone has a chance to ask questions  , share experiences  and participate. INREV provides all participants with guidance as well as our recommended meeting structure, and tips and tricks to make the most out of the programme. Each selected mentee has the opportunity to attend  a valuable one-on-one session with their mentor.

In addition, INREV hosts evaluations throughout the year to measure the programme's success, gain insights to maximise its value and stay updated on the groups' progress.
 
Related Downloads
INREV Young Professionals Mentorship Programme
Published on 20 Feb 2023 Share