Other
Viennese whirl
Plotting a safe course for real estate
01 June, 2016
The 13th INREV Annual Conference attracted 430 delegates for two days of far-reaching debate. The objective: plotting a safe course for the future of the real estate industry. No small matter then…
To a casual observer, this year's INREV Annual Conference in Vienna could at times have been confused for a highlevel economic or political congress. Views from a range of presenters and panellists demonstrated an extraordinary depth of insight. Little surprise given the calibre of the contributors and the significance of both geopolitics and macroeconomics to the real estate industry, now and in the future.
It didn't take long to get to the big topics: 'Brexit', the refugee crisis in Europe, shifting demographics, and the rise of pockets of political extremism around the world. Plus, there was a healthy sprinkling of real estate-specific issues that generated lively debate – from the impact of low interest rates, to global investor insights and the future of funds.
Asked about the likelihood of the UK voting to remain in Europe, 67% of delegates said that they thought it would. However, Philip Coggan, Buttonwood Columnist on The Economist, offered a more cautious view in his keynote address at the start of the conference. He said the result was 'too close to call' because the 'Leave' campaign was probably more likely to turn out and vote than their 'Remain' opponents.
By 2060 there will be 40 million fewer workers than today.
Meanwhile, the view from Joey Kaempfer, Chairman and Founder of McArthurGlen Group, was unequivocal. During his interview with Anthony Hilton on the second day of the conference, he said: 'If Britain leaves it'll be a disaster.' Also speaking on the second day, Michael Linhart, Secretary General for Foreign Affairs at the Austrian Federal Ministry for Europe, said he'd prefer 'the UK in', but affirmed that 'Europe won't fall apart if it [the UK] leaves'.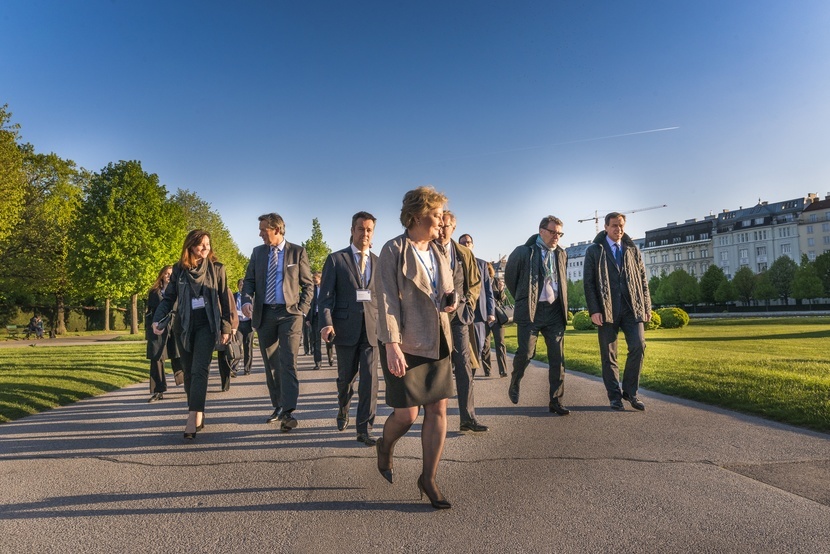 Michael also offered some interesting insights on the related issue of Europe's migrant crisis. He made the key point that the EU needed to ensure rules were applied to protect external borders without interfering with free movement of people, precisely in order to preserve that free movement. And beyond this he echoed the views of other speakers that integration would be a key factor over the coming years and decades, because 'successful integration is good for economic growth'.
It was a theme that resonated throughout the conference, closely linked to the issue of population growth and demographics, on which subject Amlan Roy, Credit Suisse's Managing Director and Head of Global Demographics and Pensions Research, spoke energetically and provocatively at the end of the conference.
Having corrected the popular misconception that demographics is about age profiles and counting people (apparently, it's more precisely about characteristics and behaviours), he offered his core thesis that Europe is in deep trouble because 79% of tax goes on provision for the elderly and no country has enough money to pay for pensions and old age care. He said this could only be paid for by young people, which was unfair and untenable. 'We're all to blame because we've made promises to ourselves that are lazy, greedy, selfish and unsustainable,' he said. 'We'll live longer but we need a fairer society'.
Philip Coggan referenced similar points, talking about a demographic 'sour spot' and highlighting the fact that by 2060 there would be 40 million fewer workers than today. The solution, it seems, is that everyone works later into life. Joey Kaempfer was perfectly happy to endorse this proposal: 'Why quit when you're enjoying what you do? I have a great team in place so I work less. They might kill me but I'm not ready to quit,' he said.
Philip raised the issue of disruptive cultural and structural changes – firms such as Uber that are altering the way things are done. These types of innovation could be both positive and negative: 'Those who gain from them, gain minimally. Those who don't, lose massively and are very angry.' All of which contributes to growing inequality and greater political instability.
But in his depiction of a 'Teletubby world' with low growth, low inflation and low interest rates, he suggested that yields would continue to lure investors to property, notwithstanding the 'Trump / Corbyn / Le Pen calculation', of course. 'If one of them gets in, yields will fall dramatically,' he concluded.
Europe is in deep trouble because 79% of tax goes on provision for the elderly and no country has enough money to pay for pensions and old age care.
The lower for longer theme found echoes around the conference hall as well as on the podium. More than 50% of delegates thought it would be five to 10 years before interest rates hit 4%. Eloy Lindeijer, Chief Investment Management for PGGM, was more definitive. In the presentation he delivered on day one of the conference, he suggested that there would be a 3.5% rate rise over 15 years. In his view, low rates posed a significant solvency and longevity risk and he quoted the $7 trillion of negative-yielding bonds as an example. The solution for delivering liability matching returns was, he thought, a more dynamic approach at the macroeconomic level, and diversification in allocations. Migration and population growth could help too, because this would be good for real estate in Europe.
In a panel debate with leading global investors on the first day, Barry Petursson, Head of Real Estate at the Alberta Teachers Retirement Fund, said that real estate would remain great value even when interest rates eventually rise. In a separate presentation on day one, Robin Goodchild, International Director Global Research & Strategy at LaSalle Investment Management, said that he thought real estate yields were okay in a 'relative' world. He wasn't so sure if the same were true in an 'absolute' world. But there was some comfort in his assertion that 'big cycles miss every other economic downturn so the next downturn shouldn't be a heavy one'.
81% of delegates thought the fund model should change
So to the nitty-gritty. Ahead of the panel discussion on the future of funds on the second day, delegates were asked if they thought the fund model should change – 81% said that it should. The panel debating the question shared a range of views. According to panel chair, Mikkel Bülow-Lehnsby, CEO and Partner of NREP, it would be 'exciting' to find a model 'that eliminates the AUM driver'. While for Sophie van Oosterom, CIO, CBRE Global Investors, fees should be based more on income rather than AUM, 'because this adds alignment with investors' and Thomas Gsaenger, Head of Indirect Investments at Allianz Real Estate, said the company was 'thinking about a back-ended performance fee, paid out as a share of the fund, which gives a better alignment of interest'.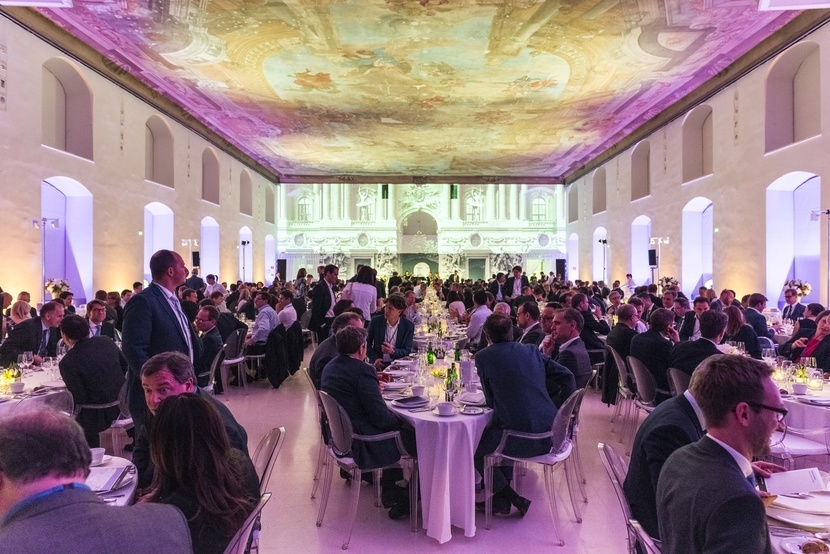 The ever-present challenge from the rapid – virtually unstoppable – progress of technology was met with interest and, at times, a hint of scepticism. In his presentation on the first day of the conference, Ben Hammersley, WIRED Magazine's Editor at Large, affirmed the veracity of Moore's law that computing power will continue to double every year. His view of a world in which every human endeavour – including fund management – will ultimately be replaced by artificial intelligence, felt unfamiliar. His explanation that we're all just 'meat puppets' keeping the seat warm for robots, sent a palpable sense of discomfort around the room.
But the underlying message was received loud and clear: techdriven upheaval will change the way real estate needs to react. Investors and providers must try to anticipate the changes that will drive tenant demand.
Ultimately, however, Ben offered an upbeat message: 'Real estate is the stage for life and the enabler of life,' he said. It was a positive thought for an industry mapping a safe course for its future in the face of myriad known and unknown challenges.