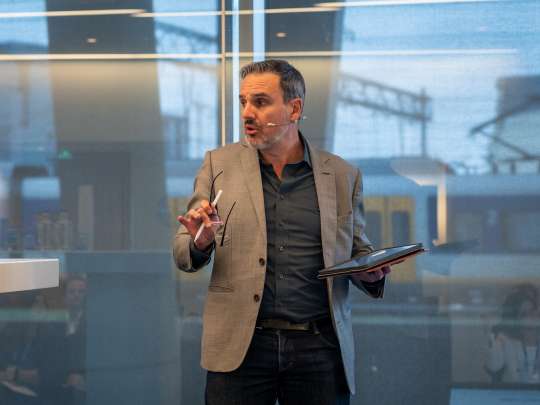 On 8 November 2023, we held our inaugural INREV Academy Day to bring together participants in the INREV training courses, Henley Certificate programme and Young Professionals mentorship programme, as well as course leaders, speakers and mentors. 
The day started off with a morning session dedicated to the INREV Young Professionals mentorship programme. Clare Samuels led a 60-minute interactive workshop helping mentees improve their influencing skills with practical tips and techniques to implement in the workplace. The session was followed by 1-hour group meetings with the INREV mentors and mentees.
After lunch, the programme continued with engaging sessions moderated by Jose Pellicer of M&G Real Estate. Here are some highlights and key learnings from the day:
Greg Kane guided us through the state of inflation, assessing its impact on real estate and what the industry can expect in values and opportunities moving forward

Nikodem Szumilo, Associate Professor at UCL and Director of Bartlett Real Estate Institute showed us examples of how AI can be applied in real estate, and how to take advantage of this technology in the future

In a panel discussion, Lonneke Löwik, CEO at INREV, Maarten Jennen, Senior Director of Private Real Estate of PGGM and Xavier Jongen, Managing Director of European Residential of Catella shared their insights on the current real estate landscape and the strategies professionals can take to prepare for the future

Gianluca Marcato, Professor of Finance and Head of Department at Henley Business School presented an introduction to the INREV / Henley Certificate programme.

Gabi Stein, Head of EMEA and APAC Real Assets Specialists at Nuveen Real Estate shared her inspirational story on success and challenges in a keynote interview
Thank you to everyone who made this event a success, and a special thanks to our speakers.