To further support the next generation in their professional development and to set educational standards for the industry INREV and Henley Business School have partnered up to offer the INREV / Henley Certificate in European Non-Listed Real Estate Investment.

About
The Certificate in European Non-Listed Real Estate Investment will be issued by Henley Business School (University of Reading) to students who attend five of the selection of existing INREV courses and successfully pass an assessment.

To achieve the Certificate attendees will have to enrol in one of the two offered curricula (learning paths): either Portfolio Management or Corporate Finance. Both curricula consist of three mandatory courses and a number of elective courses. Each participant will need to attend five courses: three mandatory courses, one mandatory elective course, and one mandatory elective or elective course of choice from the list offered. The courses will take place across Europe, the date and location can be found in the INREV training calendar.

If a participant decides to obtain a Certificate for each curriculum, the total number of courses will have to be 10, a course cannot be used for both curricula.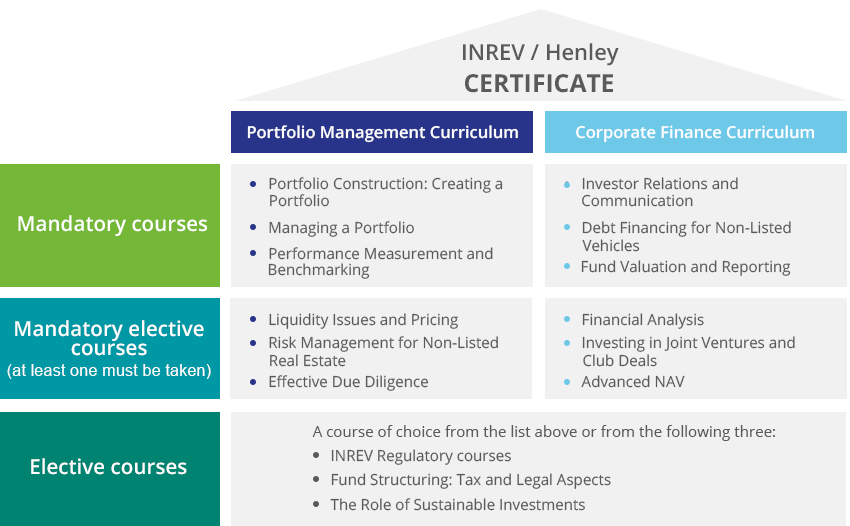 Annual curriculum review
Every year a Review Committee which will include two representatives of each institution and an independent chair will meet to discuss the INREV's course offerings and to analyse any developments or updates to the Certificate.
Assessment
Henley will provide an assessment (normally a written report) for each Certificate. Upon reception of the completed assessment, INREV will submit it to Henley, who will assess and provide feedback within a month of the date of receipt. To obtain the INREV/Henley Certificate in European Non-Listed Real Estate Investment the participant will have to attend five of the offered INREV courses and obtain a pass mark in the assessment. To ensure flexibility students will be able to carry out the assignment as soon as they complete the five courses. In case of failure, the assessment can be re-taken within 2 months.
Please note that any of the INREV training courses can still be attended on an individual basis for all of those who do not wish to enrol on the Certificate.